Meet Domo, my new pencil case. He was going for $5 and since my old pencil case has been with me since I was about 10 (yeahh i'm an old fart) and is ink and pencil-shavings stained and tiinyy (and also to do with a random Japanese cartoon character), I thought there was no better time than this. ;) Besides, it's DOMO. How can anyone resist his indolent charm?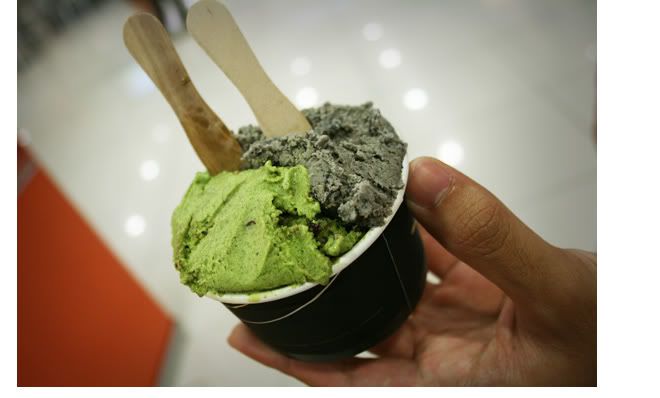 (Haarto ice-cream. The boy and I always end up getting black sesame and green tea with red bean. YUM.)
Have a new favorite item in my closet now. My heart melted when I saw that floral tank a couple of weeks back in the store but my really close girlfriend and the boy both unanimously said "NO" when I picked it up. My friend actually used the phrase "Ah Mah" when she saw it (which is colloquial speak for "Aunty" i.e. something that a middle aged mama with gaudy fashion sense would pick up). So just to appear considerate of their opinions, I decided to distance myself from it and try to see if I could live without it. Naturally I failed (especially after I saw how nice it looked on a girl in class too). I'm starting to get rather attuned to my instinctive emotions nowadays. Sometimes if you know from the start you're going to go back to something you might else well give in to the feeling now.
Tomorrow is monday again whyyy. Yesterday I had a crash course in rock climbing and it was awesome fun. :) Would've climbed a lot better if I'd cut my nails beforehand. Back and arm muscles are still aching like crazy. Today I finally watched 500 Days of Summer and it fulfilled my expectations and beyond. JGL's the LOVE. I'm sooo dedicated an entire post to that movie.